Cookies Policy

Privacy Policy
Dalsetter Rosettes Ltd ('we' or 'us' or 'our') gather and process your personal information in accordance with this privacy notice and in compliance with the relevant data protection act Regulation and Laws. This notice provides you with the necessary information regarding your rights and our obligations, and explains how, and why we process your personal data.
This policy explains how we use any personal information that we may receive about you when you use our websites or when you use or are a recipient of our goods and services. Dalsetter Rosettes Ltd registered office is at 79a Bradford Road, East Ardsley, Wakefield Wf3 2JD and we are a company registered in England and Wales under company number 05287820.
Information that we collect
Dalsetter Rosettes Ltd may collect personal information about when:
*you use our services
*you use our website
*you contact us
*you are a recipient of our goods
We may collect the following types of information:
*your name: used to send your order
*your address: used to send your order
*your email address: used to contact you regarding your order or to send marketing emails
*your landline telephone number: used to contact you regarding your order
*your mobile telephone number: used to contact you regarding your order
*your order requirements: used to fulfil your order
*your credit/debit card payment details for payment of your goods (telephone orders only).......these are entered onto the barclaycard epdq and the hard copy is then destroyed that contains your details. For barclaycard information please see below *statistical data such as how often you have ordered from us, how you heard about us and by which method you ordered from us ie telephone order or mail order. Also by which device you ordered from us by ie telephone, laptop, desktop, mobile or tablet.
The statistical data above helps us to improve our website and make it easier to use. To collect this data we use cookies.
How we use your personal data
We may use your name, address, landline or mobile number and email address to provide delivery instructions to our couriers so that your goods may be delivered to you. At the present we use Huddersfield Express Couriers t/a HEC Logistics, 3 Normandy Court, Express Way, Castleford. West Yorkshire WF10 5NR and Royal Mail.
We very occasionally use the email address provided to us on our online ordering cart system to notify customers of any events that we may be attending which may be of interest to our customers. We never give your details to third parties to use your data to enable them to provide you with information regarding unrelated goods and services. If you subscribe to our email mailing list you will receive no more than 6 emails per year and If you do not wish to receive such emails you can unsubscribe at any time - each email we send will contain an unsubscribe link.
Storing your personal data
Our website uses Romancart as our shopping cart service provider which is why you will see the web address http://www.romancart.com/cart.asp?storeid=63852 when you access the basket. Romancart act as the custodians of our sales data and do not under any circumstances pass this data to anyone else. Dalsetter Rosettes Ltd only hold paper copies of your order. For full details of the Romancart privacy policy go to:
www.romancart.com
All orders placed on the roman cart system will receive confirmation of order and an email when your goods have been dispatched using the email provided.
If you wish us not to send you any information regarding up coming events that we may be attending please contact us and ask us to remove you off that list on RomanCart. Email:
[email protected]
stating that you wish to be opted out of receiving such information as listed above or you can use the unsubscribe link contained in any email sent from us.
We use Barclaycard epdq as our payment gateway in order for you to make payment for your order by processing your credit/debit card details. Barclaycard act as custodians for all your card details and do not under any circumstances pass this data to anyone else. Dalsetter Rosettes Ltd do NOT have access to your credit/debit card details for orders placed on line. For full details of the Barclaycard privacy policy go to www.barclaycard.com
How long do we keep your details
We have to legally keep your details, hard copies of orders for 6 - 7 years. Then we will endeavour to destroy this inormation.
Cookies
Cookies provide information about the computer used by a visitor. We may use cookies where appropriate to gather information about your computer to assist us in improving our website. We may gather information about your general internet use by cookies. Where used, these cookies are downloaded to your computer and stored on the computer hard drive.
Such information will not identify you personally. It is statistical data. This statistical data does not identify any personal details whatsoever. Our links may use cookies as well, we have no control over these links and you must contact the links to find out their privacy and cookies policy.
You can adjust the settings on your computer to decline cookies if you wish. This can be done within the 'settings' section of your computer.
For more information please read the advice at http://www.aboutcookies.org
This web site uses the following cookies:
On Line Order Form:

Third-party cookies - Cookies for improving service.
Google Analytics sets cookies to help us accurately estimate the number of visitors, returning visitors and volumes of usage of our services. This is to ensure that the service is available when you want it and fast. The cookies used for this are listed below: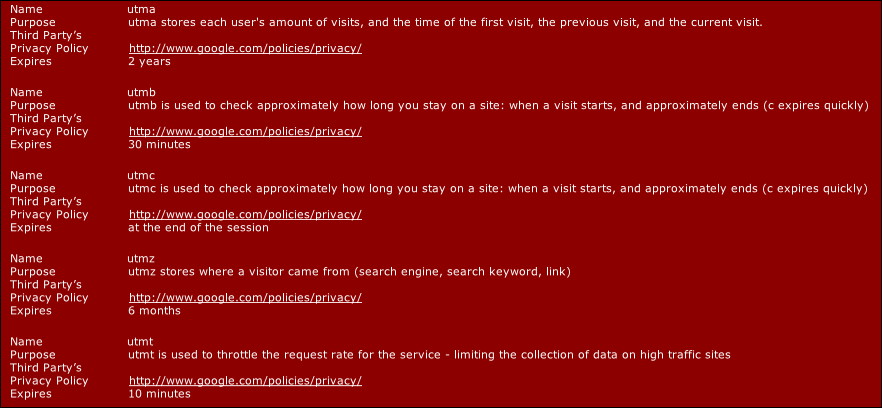 We use Romancart as our shopping cart service provider which is why you will see the web address http://www.romancart.com/cart.asp?storeid=63852 when you access the basket . Romancart act as the custodians of our sales data and do not under any circumstances pass this data to anyone else. Dalsetter Rosettes Ltd only hold paper copies of your order which are only kept for the minimum amount of time required by HMRC and are then destroyed.
Romancart use the following cookies in order to process your order.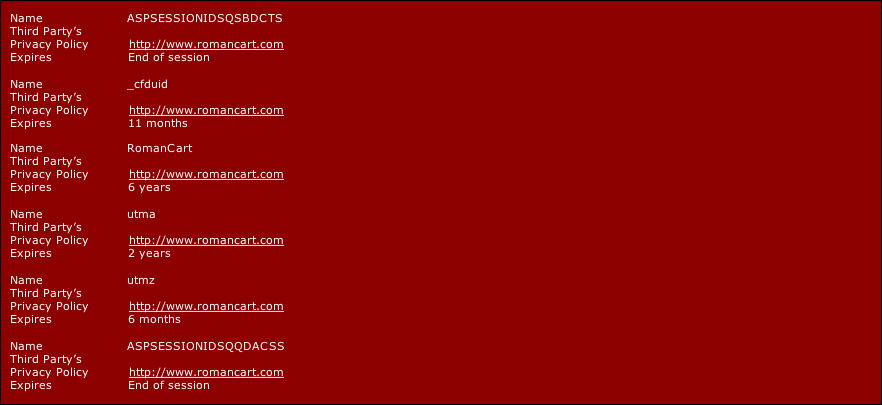 We use Barclaycard epdq as our payment gateway in order for you to make payment for your order by processing your credit/debit card details. Barclaycard act as custodians for all your card details and do not under any circumstances pass this data to anyone else. Dalsetter Rosettes Ltd do NOT have access to your credit/debit card details.
Barclaycard use the following cookies in order to process your card payment.

How to control and delete cookies
We will not use cookies to collect personally identifiable information about you. However, if you wish to restrict or block the cookies which are set by our website, or indeed any other website, you can do this through your browser settings. The 'Help' function within your browser should tell you how.
Alternatively, you may wish to visit www.aboutcookies.org which contains comprehensive information on how to do this on a wide variety of browsers.
You will also find details on how to delete cookies from your machine as well as more general information about cookies.
Please be aware that restricting cookies may impact on the functionality of our website.
If you wish to view your cookie code, just click on a cookie to open it. You'll see a short string of text and numbers. The numbers are your identification card, which can only be seen by the server that gave you the cookie.
For information on how to do this on the browser of your mobile phone you will need to refer to your handset manual.
To opt-out of third-parties collecting any data regarding your interaction on our website, please refer to their websites for further information.
By using this website you are accepting the setting of cookies